Review of Hawksmoor's £35 OpenTable deal
I'm a huge fan of Hawksmoor.
If anyone was to ask me where to have steak, the first place I'd think of is Hawksmoor. Why? Because there's nothing better than a nice piece of British steak. In the words of Hawksmoor's owners Will Beckett & Huw Gott - "the best steaks come from carefully reared native cattle breeds right here in Britain". It's not that I don't like steak from anywhere else, but nothing can beat knowing you're eating steak from cows brought up with care and love in our own country.
This means Hawksmoor isn't really a place I'd go to just for a casual dinner. It's high standards means the meal comes at a price. So I always have to wait until a special occasion to go. However, OpenTable recently brought out a 3 course meal plus a cocktail deal at Hawksmoor for only £35.00! I just had to snap up this deal straight away.
So I opted to visit the Air Street branch - because I love the wooden decor and leather seats inside. Entrance is on street level, but the restaurant is up on the first floor (don't worry there's only a few stairs to go up). You walk past a decently sized bar area before entering the dining area - I guarantee you'll go "wow" when you see it! There's a real buzz in there. Not only because of the friendly, energetic and enthusiastic staff, but also because of the diners themselves - probably because they're about to get some yummy steaks inside them! The Air Street branch is also special because it includes seafood on the menu, which has received a lot of good reviews. I have to admit though, as much as I love seafood, I think I'd find it quite hard to choose seafood over a piece of steak when visiting Hawksmoor.
The 3 course meal includes some pretty good options - even for vegetarians that are accompanying their meat eating friends! Below is everything me and my sister had.
Starters: Potted Beef & Bacon with Yorkshires - a little pot of beef and bacon in a paté textured paste, but with enough strands of shredded beef to give a good balance of textures. The rise on the Yorkshires were HUGE and it was so exciting when they were brought over to us. You could tell a lot of love went into making these - crispy on the outside and fluffy on the inside. These were served with a beef dripping onion gravy that was so rich and went perfectly with the Yorkshires. Beetroot & Hazelnut Salad with a Horseradish Créme Fraiche - a lovely fresh tasting salad. The beetroot were plump and soft, and had just a slight sharpness to them. The horseradish créme fraiche really lifted the dish with that peppery smokiness, there was also a light shaving of horseradish all over the salad too. The fresh water cress served with the beetroot was a really good combination in terms of flavour and texture. Although I didn't actually get any hazelnut in this.
Mains: 35 Day Aged Native breed Ribeye (250g) - one lovely piece of steak with enough fat around it to make it so juicy! Really flavourful and super tender. 55 Day Aged Native Breed Rump (300g) - this was one big steak. Perfectly cooked and so juicy! We didn't order any sauces with our steaks, as a good piece of steak (especially those served at Hawksmoor) only needs salt and pepper to taste good. The fact that Hawksmoor steaks have an extended aging process, compared to others, really shows through the flavours of all their steaks. Trust me when I say you won't get any steak the same as those served at Hawksmoor.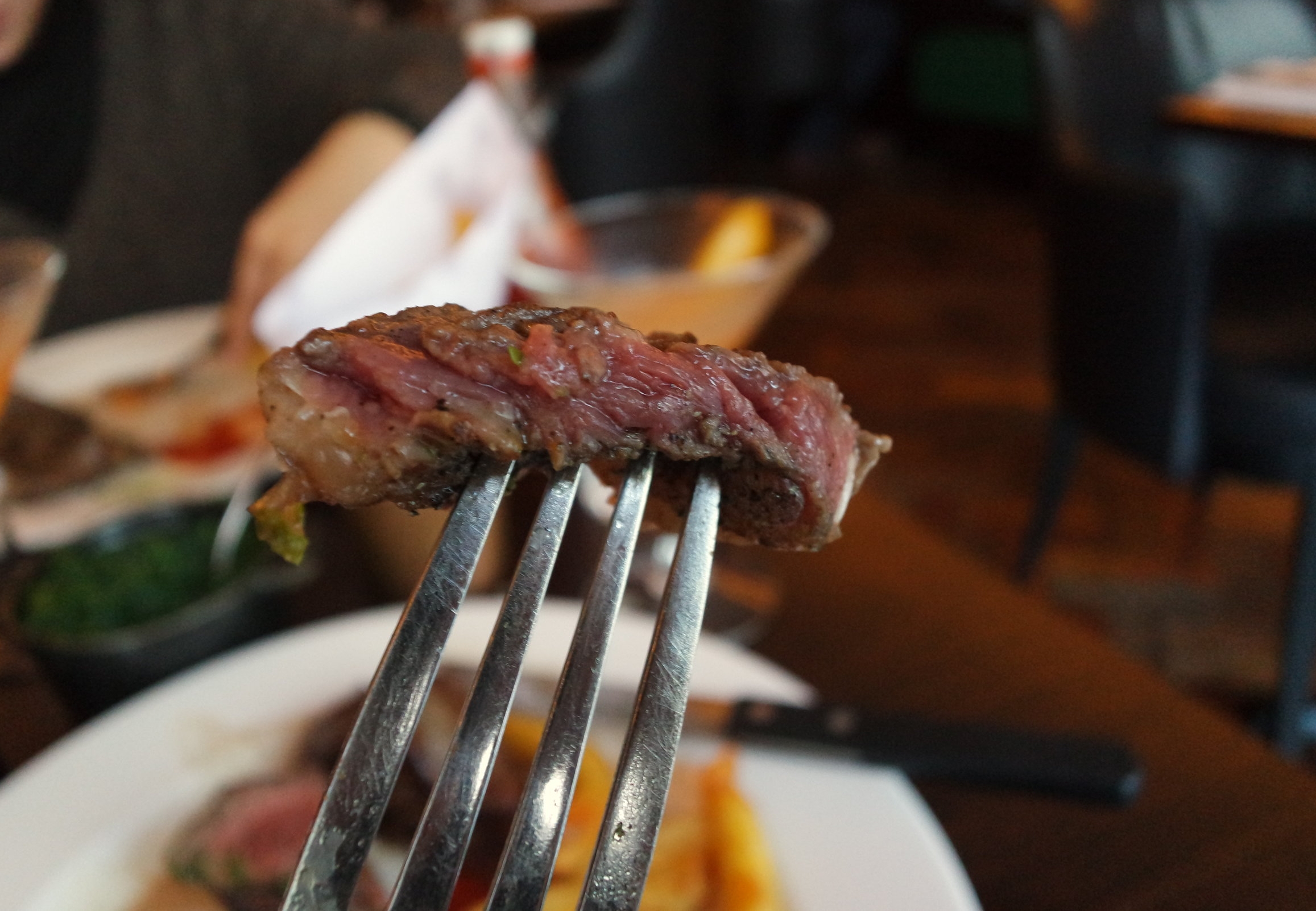 Sides: Creamed Spinach - so rich we probably don't want to know how much butter / cream went into this! Nice spiced herbs in it too. I'd recommend you order this if you like your steak with a bit of decadence. Triple Cooked Chips - who doesn't like chips with their steak. These were super yummy and I just wish there was more!
Desserts: I'd had both of these before at Hawksmoor, so I knew what I was getting! Sticky Toffee Pudding with Clotted Cream - exactly how'd you expect it to be: fluffy, moist and rich. It's isn't overly sweet or drowning in the toffee sauce like other places either. Peanut Butter Shortbread with Salted Caramel Ice Cream - I can't say no to anything with peanut butter. This shortbread was soft and crumbly, and when you cut into it, all that lovely peanut butter caramel filling oozed right out! I love the sprinkling of peanuts around the plate too. You won't go wrong with either of these :)
As always, I had a lovely time at Hawksmoor. I left with a full tummy and feeling truely satisfied. Even though I'd ordered off a set menu, I didn't get short changed at all. Normally when you get these special deals, there's corners cut somewhere. But Hawksmoor delivered this set menu to the same standard as customers ordering a la carte. This £35 offer is on until the end of November 2016, so grab it quick. Or keep an eye out for when the next offer comes out. Alternatively, as the Air Street branch is near the theatres, there is an express set menu that you can have instead: 2 courses for £35 or 3 courses for £28 - but there's less choice and it doesn't include the cocktail.
Website: http://thehawksmoor.com / http://www.opentable.co.uk
Address: Hawksmoor Air Street, 5A Air Street, London, W1J 0AD
Phone: 020 7406 3980